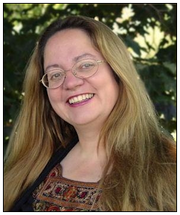 Patrica Briggs is a New York Times best-selling author. She writes The Mercy Thompson series and the Alpha and Omega series.
Biography
Edit
Patricia Briggs is a full-time writer living in rural Washington State. She lives on a ranch with her husband, Mike, several horses and wide open pastures. Patricia makes several appearances to promote her new books throughout the year.
Published Works
Edit
Sianim Series
Masques (1993, First novel)
Steal the Dragon (1995, Second novel)
When Demons Walk (1998, Third novel)
Wolfsbane (November 2, 2010, Sixteenth novel)
Shifter's Wolf (Aralorn Novels) (December 31, 2012) (Complication of Masques and Wolfsbane)
Hurog Duology
Dragon Bones (2002, Fifth novel)
Dragon Blood (2003, Sixth novel)
Raven Duology
Raven's Shadow (2004, Seventh novel)
Raven's Strike (2005, Eighth novel)
Moon Called (2006, Ninth novel)
Blood Bound (2007, Tenth novel)
Iron Kissed (2008, Eleventh novel)
Bone Crossed (2009, Thirteenth novel)
Silver Borne (2010, Fifteenth novel), Endeavour Award nominee
River Marked (2011, Seventeenth novel), Endeavour Award nominee
Frost Burned (2013, Nineteenth novel)
Night Broken (March 11, 2014, Twentieth novel), Endeavour Award nominee
Shifting Shadows (Sep, 2014), an anthology of short fiction set in Mercedes Thompson's world, including
Fire Touched (March 8, 2016, Twenty-second novel)
Silence Fallen (March 7, 2017, Twenty-third novel)
Storm Cursed (March 2019, Twenty-fifth novel)
Set in the same world as the Mercy Thompson series.
Stand-alone novels
The Hobs Bargain (2001, Fourth novel)